'Ahhh, the good old days!' How many times do you catch yourself saying that throughout the day? It's not just you, it's all of us! The older we grow, the more nostalgia we seem to develop… and our buying habits reflect it. And the good news for brands; the coveted millennials are at that age when they start reminiscing and reflecting on the years gone by. Cue: nostalgia marketing!
Nostalgia marketing is nothing new. Brands have long known that consumerism and customer loyalty is based on emotions. But this year is particularly important, as the millennial generation is set to outsize the baby boomers for the first time. That equals a whole lot of nostalgic buying potential; to the tune of 75.3 million millennials, with $200 billion in annual buying power and $500 billion in indirect spending (their impact on other generations.)
In anticipation of the power exchange, brands of all kinds have started heaping on the nostalgia to woo millennials. Appealing to their yearning for yesteryear has emerged as a strategic and effective marketing technique. Here's why it works… according to a study in the Journal of Consumer Research, we're more likely to spend money when we're feeling nostalgic. That's because the warm, fuzzy feelings of social connectedness that arise from nostalgia make people value money less, which ultimately leads them to spend more freely.
No matter the brand, nostalgia can help it score a new generation of loyal followers. So here are a few keys to success for riding this new wave of back-to-the-future marketing to millennials (and beyond!)
'90s References Are Where It's At
How long does it take for something to go from dated to nostalgia-worthy? Georgetown University's McDonough School of Business finds it's about 20 years, give or take a few years. That research-backed calculation puts us smack dab in the '90s, the decade that raised our new power consumers, so it's no coincidence you're seeing '90s flashbacks everywhere you turn.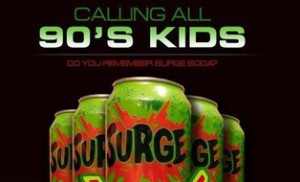 While brands like Coca-Cola, Calvin Klein and KFC are catering to millennials by relaunching '90s favs (Coke's 'Surge' soda, CK's capsule denim line that launched Kate Moss' career and Colonel Sanders,) others are using nostalgia to demonstrate how they've changed along with millennials. One of the most popular examples is Microsoft's Internet Explorer video, dubbed "Child of the 90s." It begins, "You might not remember us, but we met in the '90s," then reminds millennial viewers of happier days, with references to childhood. It concludes with, "You grew up; so did we," and invites viewers to reconnect with Explorer. The ad struck a chord with millennials, reaching more than seven million views on YouTube within five days.
There is a fine line between evoking memories and seeming outdated or out of touch. But if a brand can master it, catering to the children of the '90s can pay off by reaching well beyond their demographic. By focusing on more recent nostalgia triggers, brands can kill two – or three – birds with one stone, by appealing to baby boomers, Gen X and millennials all at once. We all remember the '90s!
Organic Social Media Throwbacks
Millennials are a different breed than previous generations. They value experiences over things and they were raised receiving information on mobile devices. Both of those traits strengthen the value of nostalgic marketing on social media. Nostalgic posts are based on past experiences and they're eminently familiar, meaning they grab users' attention quickly and pull at the heartstrings. And when that happens, the post is likely to be shared (and shared… and shared.)
We love the reminiscing on social media. Consider this; some 65 million posts are floating around social media with the Throwback Thursday hashtag alone. But nostalgia trends almost every day, affording brands the opportunity to ride its coattails…
#InThe90sIThought I wanted Wayne and Garth to be my friends #PartyOn #WaynesWorld pic.twitter.com/VZlMVabjJf

— Paramount Movies (@ParamountMovies) June 10, 2015
Keeping your finger on the pulse of social media trends is important for finding organic ways to use nostalgia to market your brand. But be warned, you'll only win the hearts of millennials if you keep it authentic, all about them (not you!) and reciprocate. So stay relevant to your brand, play on their happy experiences and respond to, and share, their responses. After all, sharing is caring.
Community Walks Down Memory Lane
If there's one thing marketers are learning about millennials, it's that they don't like to be sold on anything! They're described as being wary of blatant advertisements and product integration. But the reality is, their loyalty lies with those who trust them enough to make them a part of the story. So, bring them into your nostalgia marketing process.
There are many ways to stir up nostalgic feedback from fans and followers. For example, musicians can launch a simple throwback campaign on social media, asking people to pick which '90s song they should cover, then turning and posting the performance. Cover songs are walks down memory lane in and of themselves, and in this case, created with the audience who holds the fondest memories of that era. The likelihood of that cover being shared, and the artist gaining a loyal fan base and attracting new fans, is pretty darn good.
Harnessing the power of the past has proven to work miracles for brands. It not only makes people more willing to buy, but also more likely to change brands, share its content and surf its sites. But maybe most importantly, as it relates to millennials, blast from the past campaigns help create positive brand association, which in turn, may make them a brand's most valuable marketers in the future!
###
Author: Reina Carbetta